This post brought to you by

Atlantic Luggage

. The content and opinions expressed below are that of

Ramblings of Mama

.

Holiday travel. Everyone does it. Everyone really hates it. Or is that just me?

Believe it or not, I love traveling to see my family over the holidays. Being that we now live clear across the country, we cannot just pick up and throw a few things in our car and head out for a long weekend. It takes planning. It takes preparation. And most definitely, it takes patience.

Currently, Atlantic Luggage is running an amazing sweepstakes where you have the opportunity to win a family trip for four to your choice of New York or San Diego! Because life is a trip®, Atlantic Luggage is sending you on the trip of a lifetime! So, register for your chance to win a trip for the whole family today!

Enter to win a family trip

: GRAND PRIZE includes roundtrip airfare for four (4) courtesy of Delta Vacations®, your choice of Delta Vacations hotel accommodations, one Delta Vacations activity or tour for four, and four Atlantic carry-on size suitcases.

Despite the fact that most people are jovial throughout the holidays, traveling seems to bring out the worst in people. Today, I want to share 5 tips with you in order to make holiday travel less of a headache. Remember, planning, preparation and patience.

1.

Travel Light. Bring only what you'll need.

Pack for the number of days you're traveling. Consider mix and match clothing styles to help you pack less clothing. These airlines are no joke when it comes to over-limit weights on your luggage. PLAN! Check the weather! You don't need to bring multiple seasons of clothing unless you're traveling Unless you're going someplace extremely rural, you can pick up something if you need to.

Parents

: this means buy diapers, formula and things of that sort at your destination. I know you've stocked up at home, have TONS, and it's never as cheap as buying it at home, on sale and with coupons... But seriously, why waste the precious cargo space?

2.

If you're traveling for Christmas or Hanukkah, ship gifts in advance to your destination.

Why pack gifts in your luggage? It truly makes no sense. If you have something of high value, I can understand packing this in your luggage, but if you know well in advance, you can have it shipped ahead to your destination by the store that you purchased it from. Kids toys are notorious for eating space. All you need to pack for the kids is enough to keep them entertained while traveling. Otherwise, the rest can be shipped.

3.

Plan for bored children. Prepare entertainment and busy bags/boxes EARLY.

Kids get bored while traveling. Not only that, they can tell when their parents are stressed and start acting out for attention during stressful situations. The thing is, you don't want to be throwing some random things together at the last minute (the night before) and have to spend $8 on a package of 8 crayons at the airport because you forgot to pack a few. There's TONS of ideas for busy bags and travel kits on Pinterest, go put those together! Also, if you can travel at non-peak hours, where planes are a little less congested, that makes it easier on everyone. Your kids might sleep on the plane, and there's less of a chance that Mr. "I'm going to give you THE LOOK" is on your flight.

4.

Get some quality luggage.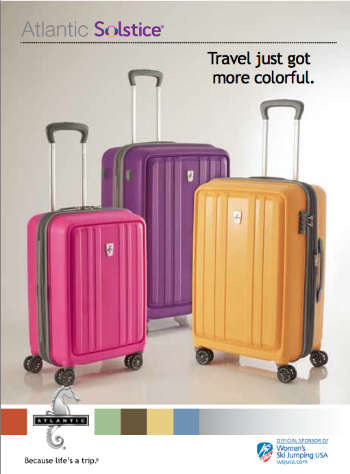 Luggage is like bedding. You get what you pay for. If you buy a cheap piece of luggage, then it's going to perform like cheap luggage- it's bulky, heavy and falls apart. Atlantic Luggage has been pioneering great luggage for almost 100 years, making family traveling easier with their versatile, lightweight and affordable luxury sets. With a range of varieties in color, style and features, Atlantic Luggage makes packing for family trips easier no matter where the destination. You will be amazed how much you can fit into each piece, ridding you of the hassle of multiple pieces of luggage to carry or to worry about in the airport. Atlantic Luggage has innovative features such as the Link2Go™ system, which allows you to connect multiple pieces of luggage for easy one handed rolling. Or, their 360-degree 4-Wheel Spinners allows for easy guiding and steering through busy terminals. Atlantic Luggage has thought of it all, taking the struggle out of traveling for the whole family.
5.
Be patient.
There's always going to be someone a little more rushed than you, a little more stressed than you, a little more anxious than you. And there's always that travel jerk. Just don't let them bother you. They can give nasty looks or passive-aggressive snide comments, but that does NOT mean you have to engage. Just smile, and a cheerful "Happy Holidays" is all you can do. You can't change other people's behaviors, you can only change how you respond to such negativity. After all, you're traveling with your family, who wants to remember that argument with the jerk on their airplane, potentially making future travel for your children more stressful, in the event they fear something like that happening again? Do your best to give yourself extra time and be patient. At the end of the day, all that matters is that you have a happy trip and some fun quality time with your friends and family.
Make sure you Enter HERE to win a family trip for four to New York or San Diego, courtesy of Atlantic Luggage and Delta Vacations!
Dates:
Sweepstakes runs October 15 through November 15
Winner will be chosen within 7-10 days following the close of the sweepstakes.
Grand Prize trip must be booked by 9/30/15 and travel must be completed by 10/31/15.
Prize:
Grand Prize package trip certificate is valid for: (a) round-trip economy air transportation valued at up to $450 per ticket for the Grand Prize winner and three (3) guests from a major U.S. airport serviced by Delta Air Lines near to the Grand Prize winner's home (as determined by Sponsor), to a major U.S. airport serviced by Delta Air Lines near New York City or San Diego, CA (as chosen by winner and determined by Sponsor); (b) hotel accommodations at a participating Delta Vacations hotel in New York City or San Diego, C; (c) four (4) Atlantic® carry-on sized suitcases; and (d) $300 allowance to spend on their choice of Delta Vacations Tour or Activity packages.
Trip is to last three days and two nights
Total prize value of $3,700
Disclosure: Financial compensation was received for this posting. Ramblings of Mama will always provide honest opinions, beliefs or experiences on products reviewed or services recommended. This giveaway is in no way associated with Facebook, Twitter, Pinterest or any other social media outlets and released of any liability as such. This disclosure is done in accordance with the Federal Trade Commission 10 CFR, Part 255 Guides Concerning the use of Endorsements and Testimonials in Advertising. Links enclosed contain affiliate links. If you have any questions, please contact Michelle RamblingsOfMama{at} gmail {dot} com
*I was compensated for writing this post, however all opinions are 100% mine, and I only endorse things I would use with my own family.*