This post brought to you by
Purina®
. The content and opinions expressed below are that of Ramblings of Mama.
This post brought to you by Purina®. The content and opinions expressed below are that of Ramblings of Mama.
I don't know about you guys, but my fur-babies were our first children. I know, most parents are like, "seriously,
pets
are not kids,
AT ALL
".
Well, the thing is, my
pets
, they're all rescue pets. They picked us... We've adopted from shelters, we've adopted strays, we've adopted re-homed dogs. Our first dog, Jake, was a Humane Society dog. My husband (was then boyfriend), and I were in a long-distance relationship, and he was lonely. See, his childhood dog, Golden, had died about a year and a half earlier, and while we were apart during that time frame, he was home and really missed his canine companion. So, he went on a search for a dog, and he found Jake. We've had Jake about 9.5 years now, and he's such a fantastic dog. I call him my special protector.
Our next dog, Cody, he's the guy this story is about. We adopted Cody in 2006, another Humane Society dog. We actually were looking at a different dog, but the workers at the shelter suggested letting Cody and Jake have a little meeting and see how well they got along. They did. They fit together like peas and carrots.
See, Cody was in a special area, for "extra-special pets"... These pets, they're separated due to various health conditions. See, he was diagnosed with separation anxiety. No big deal, right? Eh... uh... Well... Turns out, he had three prior owners before coming to OUR forever home. He was only 7 months old, and complete skin and bones. He was even medicated with prescription anti-anxiety medications. He came home, and was happy, a really happy guy. You've heard the old saying, right?
A happy pet is a healthy pet
? This completely rings true.
The first few weeks home, we had a broken crate, two ripped up pieces of upholstered furniture, and quite a few other things. We had to come up with some creative solutions to manage his anxiety, and within a couple months, we were able to wean him off of his prescription medications. Our trick? We learned that when we weren't home, he was much more comfortable and less anxious when he was crated with our other dog. We believe in crate training, for the safety of the dog. Plus, dogs are den animals, he loves his crate. It's his "safe" place.
Something we learned with Cody was to be patient. He prepared us for being parents. Really. He did. We learned not to make a huge deal about things being chewed up, broken and/or mess around the house. It was no good for us, no good for him. He's thrived over the past 8.5 years with us. We have found out that he has multiple congenital disorders, which cause him considerable pain in his hips and legs. However, we made a commitment to him, as he made a commitment to us. He's such an amazing, happy, silly dog, he just makes us laugh all the time. He thinks he's a lap dog... and at 100 lbs, that makes for interesting snuggle time!
One of the most important things we learned as pet-parents, we needed to feed him the best. Since he had those congenital disorders, puppies grow so quickly, and is such a large dog, top of the line nutrition was imperative. With two big dogs and me in graduate school, we needed to find something that also worked for our budget. The food we chose to feed our dogs was Purina. Purina met the nutritional needs of our new puppy, and fit perfectly into our budget. One thing we also would do, was to purchase our dog food at Sam's Club. Why? Sam's Club offered us larger bags of dog food at a great price. We could pick up a bag of food for the two dogs, at a fantastic price, along with household items and grocery items that we used all the time.
So, why am I telling you this story? I want you to take the Purina Paws for Life Pledge. What is this? It's a pledge you make to your pet, to be healthy for your pet! I've seen so many people that had to surrender their pets; because, they didn't maintain good health. See, our pets need us to maintain good health in order to keep them just as healthy. We need to walk them, exercise them, play with them! They need us to be active, so they can be, too!
Visit the Paws for Life Pledge and check it out! You want to be healthy for your two-legged kids, right? Be healthy for the four legged fur-kids as well! They deserve it. They make you and your family happy, so make them happy!
A happy pet is a healthy pet
, so do what you can to keep him healthy and happy!!!
Make sure you take the pledge for your pets!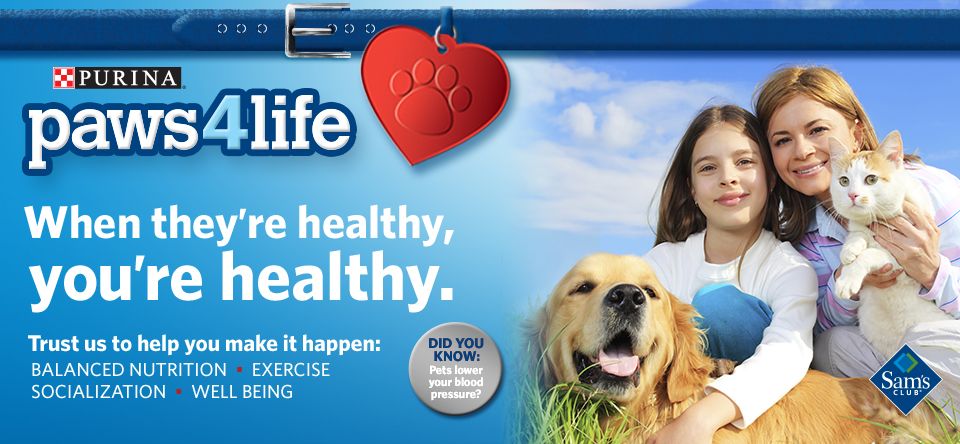 Be sure to follow Ramblings of Mama via Facebook, Twitter, Pinterest, Google, Instagram, YouTube, and BlogLovin for exclusive content, more reviews, giveaways, crafts, and mommy tips!
Disclosure: Financial compensation was received for this posting. Ramblings of Mama will always provide honest opinions, beliefs or experiences on products reviewed, the
sponsor
in no way affected the poster's opinion. . This disclosure is done in accordance with the Federal Trade Commission 10 CFR, Part 255 Guides Concerning the use of Endorsements and Testimonials in Advertising. If you have any questions, please contact Michelle RamblingsOfMama{at} gmail {dot} com